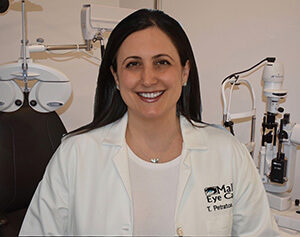 Fellowship Trained Cornea, External Disease & Cataract Surgery
Cornell University, Bachelor of Science, Neurobiology & Animal Behavior Major, Magna Cum Laude, 2001.
University at Buffalo School of Medicine & Biological Sciences, Doctor of Medicine, 2005.
Fellowship: Mount Sinai School of Medicine, New York, N.Y. Cornea, External Disease & Cataract Surgery.
Residency: Ophthalmology, New York Medical College, New York, N.Y.
Internship: Flushing Hospital Medical Center, Transitional Year, New York, N.Y
Dr. Petratos is a Board Certified Ophthalmologist and specializes in the latest cataract surgery techniques, including the use of high technology lens implants designed to reduce the effects of astigmatism and presbyopia. Dr. Petratos expertise includes performing full cornea transplants and surgery for pterygiums. She also performs minor office procedures including lid surgery and lasers for glaucoma and retina pathology. Dr. Petratos is committed to combining the latest medical advances with compassion and respect to improve the quality of patient's lives. She believes the quality of care begins with the office staff and continues with her medical care and attention to the patients.