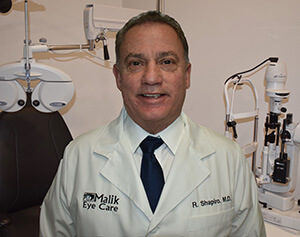 Board Certified Ophthalmologist
N.Y. Medical College, M.D. degree
Stamford Hospital Residency in Internal Medicine
NYU Medical Center, Bellevue Hospital, Manhattan Veterans Hospital Residency in Ophthalmology
Attending Physician at Winthrop Hospital
Attending Physician at Northwell Hospital Manhasset
Attending Physician at LIJ at Valley Stream
Dr Shapiro is a Board Certified Ophthalmologist focusing on comprehensive eye care.
He specializes in laser treatment of glaucoma as well as nutritional eye health. He also performs cosmetic procedures including Botox and Dermal Fillers.