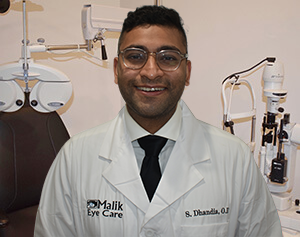 Dr. Sagar Dhandia received his optometry degree from the State University of New York College of Optometry after receiving his B.S. degree from Stony Brook University. He completed his optometric clinical training in both the V.A Harbor Health and the V.A Baltimore health care systems where he trained alongside leaders in the field in the areas of retina, cornea, glaucoma, uveitis, and neuro-ophthalmology.
Dr. Dhandia went on to residency at the Harbor Health V.A in Ocular Disease further training in glaucoma and ophthalmic manifestations of systemic disease while proudly serving the veterans of this country.
Dr. Dhandia is also able to do exams in English, Hindi, Spanish and Bengali. He is currently a member of the American Optometric Association.